Description
Neodymium Channel Magnet with CSK Hole – Strong Magnet
Our Neodymium magnets are available in a range of shapes and sizes, offering a superior pull performance to other materials with the same volume, thanks to their NdFeB properties. Explore our wide range of super-strong Neodymium magnets.
Download Neodymium Channel Magnet with CSK Hole Catalog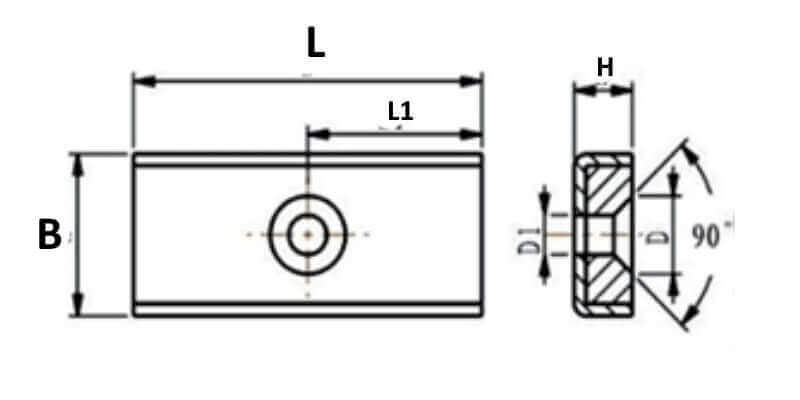 Neodymium rectangular channel magnets are powerful, U-shaped magnetic assemblies built for heavy-duty mounting, holding and fixing applications. They are constructed with strong neodymium block magnets encased in a nickel-plated steel channel for maximum holding power(up to 16kg).
Channel magnets have one counterbore/countersunk holes for attaching M3 standard flat-head screws, nuts and bolts. Countersunk mounting hole is located in the center of the magnet for easy attachment of standard flat-head screws, nuts or bolts. This avoids possible cracking issues which can occur when tightening up the screws in drill holes on ordinary block/bar magnets.
Threads cannot be manufactured directly into neodymium magnets because they are too hard and brittle, but when integrated into pot magnet assemblies, rear threaded fixings are available in the steel pot magnet shell.
Neodymium Channel magnet with CSK Hole can be used in both indoor & outdoor applications, they are ideal for industrial & consumer mounting holding & fixing applications where high-magnetic strength is required.
NOTED: Product Images are shown for illustrative purposes only and may differ from actual product.