Arc magnets are a unique shape which are designed especially for motors, generators and alternators and are commonly used for both rotors and stators. They are also used in magnetic flywheel assemblies. In motor design a ring of magnets with alternating polarities on the inner radius rotate in close proximity to a number of copper coils. As the copper passes through the magnetic fields an electric current is induced within the copper.
Four or more magnets with an equal number of north and south polarity on the inner radius can be used to create a multi-pole ring. All arc magnets are available with either pole on the inner radius.
ARC Magnets are available in India as per customer design. We develop from our manufacture and get it available in India.
If you are looking ARC custom Magnets for your application then E-mail us your requirement with complete specification and CAD drawings. We will will review your request within 1-2 business days. If there are any questions or problems, we will let you know via email.
PATEL MAGNETS will email ARC custom Magnets quote, if you are interested. Each ARC custom Magnets is identified with a unique part/quote number.
We do require a minimum order amount of Rs. 15000+ worth of magnets for ARC custom magnet orders. This limit applies to each unique magnet shape/size/grade ordered. Delivery requires up to 5-6 weeks after receipt of your order.
Sorry, we do not have a way of substantially reducing the lead time for custom magnets. We aren't able to offer quicker service, even with an expediting fee.
Please review the quote to ensure it matches your specifications.
also you can place an order for ARC custom magnets per your quote. You have to transfer 50% advance payment with purchase order to process.
We are not able to cancel or modify a custom magnet order after this process has begun.
When your magnets are completed and receive at India address, we will confirm you to process 50% reset payment to dispatch on shipping address and after receiving 50% reset amount we will ship them to you using the shipping address provided.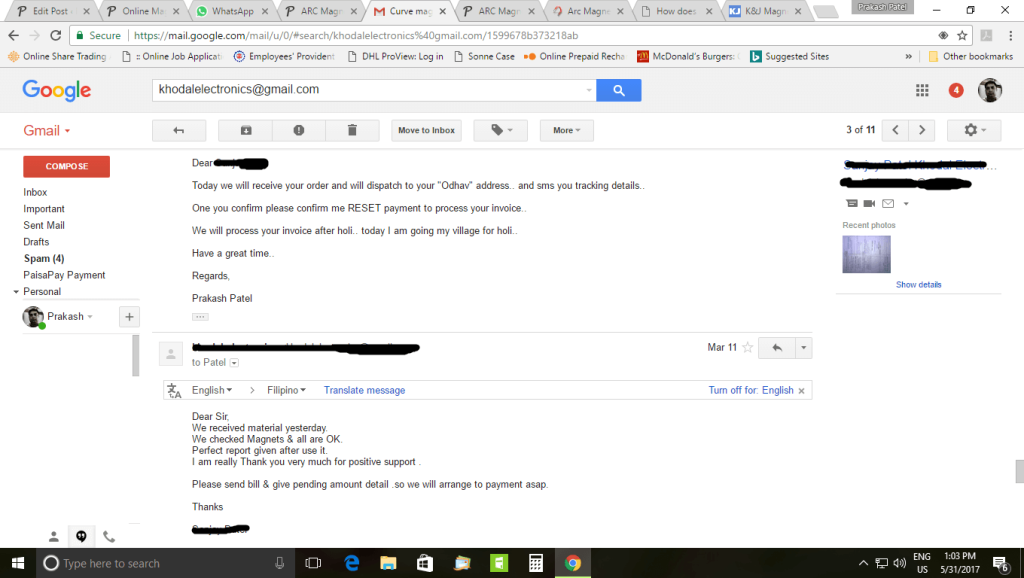 We have completed lot's of ARC custom order for industrial here above is proof of same.
Customer is happy with getting ARC custom magnets for motor application.